About this:
A Child Theme is a fundamental part of editing templates which is often overlooked. Why is it important?The Flatsome main theme is updated regularly which essentially replaces and overwrites files. The child theme is separate and will not receive these updates so all files within will not be edited/overwritten/replaced. This way you don't have to edit the template every time there is an update.
Step 1: How to find theme settings
In your WordPress dashboard menu find 'Flatsome' and go to the submenu item 'Advanced'.
Here you find multiple theme settings. On the bottom you find 'Backup and Import'. Click it.
You will now see some text, buttons and a text area with a long string of characters.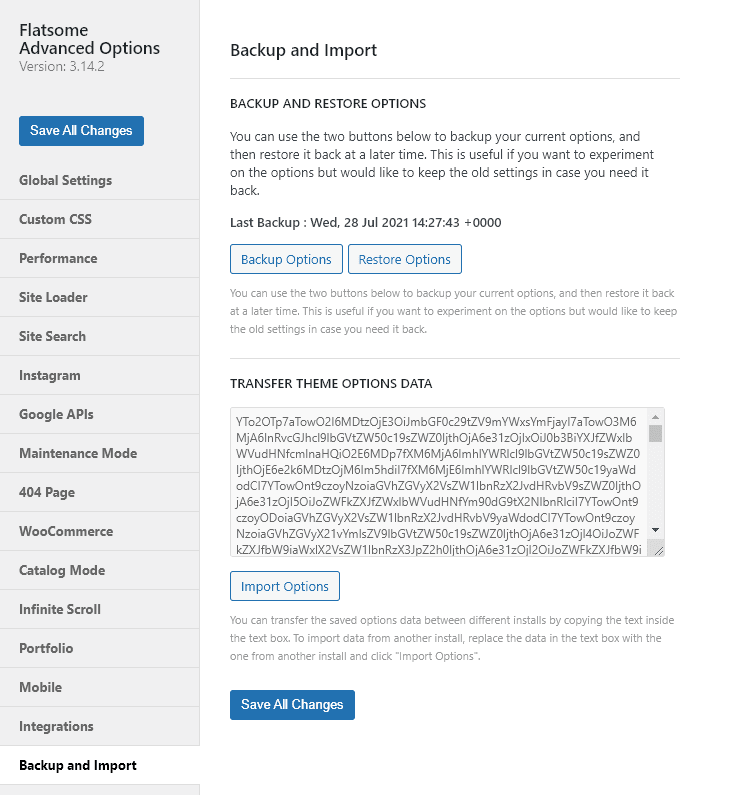 Step 2: backing up
Select everything in the text area below "Transfer theme options data" and paste it in a notepad or something for now. Do the same with the functions.php (and all other edited theme files) if you've already added code to it. Just make sure that you have everything and have saved it somewhere on your pc.
Step 3: Setup wizard
Once saved on pc you can start the Setup wizard and activate the child-theme. You will start with the default Flatsome settings so return to Flatsome > Advanced > Backup and Import.
Step 4: Import backup
When back at Backup and Import setting you can delete the contents of the text area. Copy and paste your backed up options from your pc in the text area and click the button "Import Options".
You can now return to your dashboard/site. The install is complete!